System Integration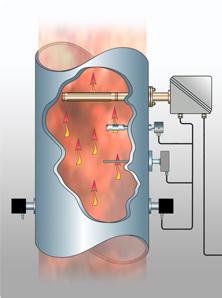 Integrated Continuous Emission Monitoring Systems (CEMS) are often required to report pollutant measurements normalised to a level of O2 or CO2. This is achieved by connecting an oxygen analyser output signal directly into the stack mounted infrared or UV analyser. The data from the oxygen analyser is then transmitted to the analyser control unit, along with all other concentration measurements, and used to calculate and display a normalised concentration of pollutant gases.
Similarly a Particulate or Opacity monitor is connected to the in-stack gas analyser for the concentrations of dust / particulate to be displayed, trended and logged on the analyser control unit.
In many application, it is also necessary to measure velocity or flow. These devices may also be directly connected to the stack mounted gas analyser, enabling concentrations to be displayed and reported in mass units, typically kg/min.
System integration provides the advantage of all required CEMS measured and calculated parameters to be displayed, trended, logged and reported from a central CEMS control programme.